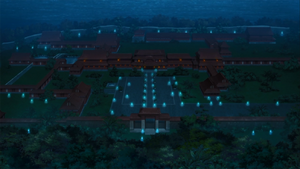 Orio-ya
(折尾屋) is a seaside inn located at the southern end of the
Hidden Realm
.
[1]
It is the rival inn of
Tenjin-ya
.
Ownership and Current Staff
Ougon-douji is the mistress innkeeper.[2].
Ranmaru is the lead manager.
Hatori is the front desk manager.
Nobunaga (Nobu-Senpai) is the advertising manager and beloved mascot dog.
Former Staff
Ginji. Position unknown. Ōdanna successfully headhunted him for Tenjin-ya nearly fifty years ago.[4]
References
Community content is available under
CC-BY-SA
unless otherwise noted.