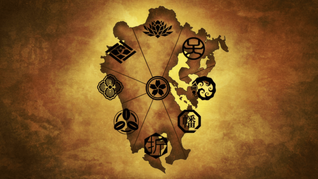 The Hidden Realm (隠世, kakuriyo) is the name of the other world where ayakashi dwell. It consists of a central capital, Youto (妖都, youto), and eight lands, each one brimming with diverse nature and cultures. Much the same as humans, ayakashi are carrying out their day-to-day lives energetically.[1]
Hachiyo
Each of the eight lands is ruled by a powerful leader called a Hachiyo (八葉, hachiyou). Together, the eight Hachiyo rule over the Hidden Realm. They are as follows:
An unidentified ice being (氷人) in the north.
An unidentified dragon being (龍人).
An unidentified azukiarai (小豆洗い) related yokai.
Ranmaru is the dog god (犬神, inugami) and lead manager of Orio-ya. His land is located in the south.

Previously, Princess Iso, a mermaid, was the Hachiyo of Orio-ya

An unnamed ittan-momen (一反木綿) yokai of Yahata-ya.
Matsuba is a tengu (天狗) of Mt. Shumon. His land is located to the west.
An unidentified group of eight tanuki (文門狸の八人).
References
Community content is available under
CC-BY-SA
unless otherwise noted.